Country singers value a good story. While the pain and joy of love is a common theme, domestic abuse, the waste of war, prison and poverty also figure. Ask Johnny Cash.  The man in black was clear.  He said that until 'we make a few things right, you'll never see me wear a coat of white'.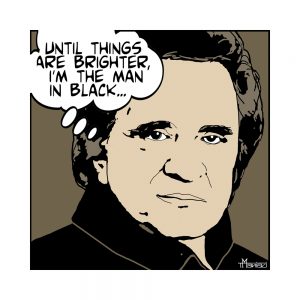 The power of stories in driving policy action was highlighted in a recent Radio 4 programme 'A Point of View', an interest echoed in the work of the WHO Collaborating Centre on the Cultural Contexts of Health here at Exeter University. The programme recounted how 'charismatic' stories help achieve change, and gave the smoking ban in public places in England as an example. It reckoned that such stories connect ideas into a narrative powerful enough to realise such change. In contrast, the disparate data on health inequalities and lack of charismatic stories meant that a coherent narrative had failed to emerge.  This, it was argued, had undermined efforts to deliver key changes to improve health and reduce health inequalities.
All available evidence is needed to help policymakers make good decisions. As the programme noted, the data does not always convince. Understanding the numbers – and interpreting them – can be difficult. Policymakers also want to see how possible policies will play out on the ground.  This means assessing the costs, the practical pitfalls, and the impact on other organisations. Stories from lived experience are one way of making this real.  While it is to be hoped that such stories will sit alongside more conventional forms of evidence, there are risks that such stories play on – or encourage – people's fears and pressurise policymakers into making poor decisions.
Stories are important as evidence. Health inequalities is not, of course, lacking good stories. The health inequalities London underground map referred to in the programme is a vivid example of how these inequalities can be made real for policymakers and others. Travelling east from Westminster to Canning Town on the Jubilee line, each stop represents up to one year of male life expectancy lost at birth and shows the poor state of public health on Parliament's own doorstep.
Perhaps examples like these are not sufficiently charismatic to generate the strong narrative necessary for public action. Banning smoking in public places is a clear, well-evidenced and singular piece of policy action, the culmination of more than 30 years of anti-smoking activity.  Despite a similar lineage – think Black Report (1980) – health inequalities are the result of many interacting factors. Any available charisma needs to work its magic across a range of social determinants that underpin these inequalities.
As noted, convincing stories can have the opposite effect by driving a narrative that runs counter to the available evidence.  This is where the politics comes in.  Any decision on – or dispute between – the data and evidence, and the stories will be mediated by political considerations.  This can be down to the personal interests or preferences of policymakers, which, hopefully, conform to the available evidence, as in the smoking ban.  Alternatively, decisions can be down to a felt need to act, due to electoral and other considerations.  This is the 'something must be done' school with its potential for expensive mistakes and lost opportunities.
This is what seems to have happened with the 2011-16 Cancer Drugs Fund. Announced during the 2010 general election, it was 'a quick fix to politically damaging newspaper headlines about cancer patients dying because their life saving treatment had been turned down by the NHS'. Such 'charismatic' life and death stories that draw on people's experiences stimulate politicians' imaginations, giving momentum to an alternative narrative that sets aside the evidence and encourages the 'something must be done' approach.
The National Institute of Clinical Excellence (NICE) was set up to advise on an evidence-based approach to these issues, but the Fund was devised explicitly to pay for drugs that hadn't been approved by NICE – turning the evidence-based approach on its head. The Fund was relaunched in a modified form in March 2016 but not before it had "wasted more than a billion pounds" of scarce NHS resources. Professor Richard Sullivan, Director of the Institute of Cancer Policy at King's College London, conducted a review of the Fund published earlier this year.  He concluded that it had "failed to deliver meaningful value to patients or society", and was quoted as saying the performance of the fund demonstrated the folly of announcing policy "on the hoof", adding that the policy was not "properly thought-out…People became politically and intellectually lazy, but the money kept flowing".
This example shows how 'charismatic' stories and ideas can be bad as well as good for your health. So, what to do?  How can we develop coherent narratives that will guide policymakers to the right choices and ensure better value for money?
One way is to foster an open environment that encourages politicians and policymakers to questions their aims and intentions and reflect on the available evidence, including stories.  This means building bridges between policymakers, academics and researchers, practitioners, and the people on the receiving end of such policies – and taking account of the wider social and cultural aspects of health. A start can be made on developing better informed policy by
Making sure the evidence and/or data is robust and amenable to peer review. This will provide a better basis on which to build a consensus on the policy implications of that evidence, and 'what works' (or is most likely to).  We need to promote a better understanding of the evidence through effective and widespread dissemination – reaching the 'right' people, not just policymakers and experts but to wider stakeholders as well
Improving the quality and reliability of the storyline and the ideas behind the stories. We need to draw on recent protocols developed by the World Health Organisation to "assure [greater] trustworthiness [and] plausibility", working across disciplines to improve the status of stories and ideas in research and policy communities and making them a more reliable guide for policymakers
Making public voices heard through proper public engagement so that policymakers can better understand the impact of their actions on people's lives. We need to broker new partnerships that help us listen and hear people's stories and their lived experiences.  This is where country music come in – in telling truths about people's lives and their health and wellbeing.  We need to draw on these lessons as part of the policy mix, perhaps shaping them by co-production into a more policy-friendly format
Policymaking is an imperfect art form. Aligning these dimensions will help policymakers tackle health inequalities by sprinkling that magic of 'charisma' onto the overwhelming body of evidence that already exists into an effective and coherent narrative.  This will raise the chances of action that will improve the health of 'the poor and beaten down, livin' in the hopeless, hungry side of town', while bringing forward the 'ones who are held back'. It may even bring closer the day when the man in black can, finally (even if metaphorically), don that coat of white.