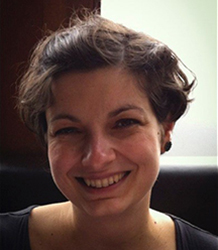 Dora Vargha is Lecturer in Medical Humanities and is based in the History Department at the University of Exeter. She completed her PhD at Rutgers University in Modern European and Women and Gender History in 2013. Her dissertation was awarded the Young Scholar Book Prize 2014 by the International Committee of the History of Technology and in 2016 she received the J. Worth Estes prize from the American Association for the History of Medicine (AAHM).
Before joining Exeter, she was a postdoctoral fellow at Birkbeck, University of London, where she participated in The Reluctant Internationalists research project. Dora's work focuses on the intersections of history of science, technology and medicine, childhood and disability, and on using the locality of Eastern Europe to approach global public health issues.
She has written extensively on the global history of polio vaccine research and polio treatment, among others on Cold War collaboration in vaccination; the role of the paternal state in Eastern European vaccination practices; and on polio treatment and disability in Hungary.
Her first monograph, which uses the series of polio epidemics in communist Hungary to investigate a global public health emergency in the midst of an international political crisis, is to be published with Cambridge University Press.
She is currently working on two projects: the first explores how epidemic narratives shape global health management, and what happens after the end of disease. The second project focuses on health and medicine in the socialist world and on integrating socialist international health into the history of global health. Dora is founder of the Central and Eastern European History of Medicine Network and member of Centre for the Study of Internationalism at Birkbeck, University of London.